Federer e Murray di corsa ai quarti, Williams ok
Tennis
Andy Murray abbatte in tre set Kyrgios e accede ai quarti di Wimbledon (Getty)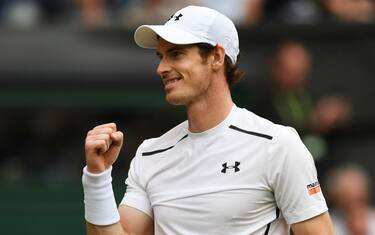 Nessuna sorpresa negli ottavi di Wimbledon: tra gli uomini avanzano il n.2 e il n.3 del tabellone, che affronteranno rispettivamente Cilic e Tsonga. Tra le donne tutto facile per le sorelle statunitensi
Pronostico rispettato da Roger Federer, che si qualifica per i quarti di finale di Wimbledon battendo lo statunitense Steve Johnson in tre set. Al prossimo turno lo svizzero, testa di serie numero 3, se la vedrà con il croato Marin Cilic. Tutto facile anche per Andy Murray, che dopo aver sconfitto in tre set l'australiano Nick Kyrgios raggiunge ai quarti Jo-Wilfried Tsonga.
Nella parte alta del tabellone lo statunitense Sam Querrey, dopo aver eliminato a sorpresa Novak Djokovic, si impone anche su Nicolas Mahut. Per lui c'è Milos Raonic, reduce da una maratona in 5 set con David Goffin.
Tabellone maschile, i principali risultati
Jo-Wilfried Tsonga (testa di serie n.12)-Richard Gasquet (testa di serie n.7) 4-2 rit.
Sam Querrey (testa di serie n.28)-Nicolas Mahut 6-4, 7-6, 6-4                    
Milos Raonic (testa di serie n.6)-David Goffin (testa di serie n.11) 4-6, 3-6, 6-4, 6-4, 6-4     
Roger Federer (testa di serie n.3)-Steve Johnson 6-2, 6-3, 7-5
Marin Cilic (testa di serie n.9)-Kei Nishikori (testa di serie n.5) 6-1 5-1 rit.
<blockquote class="twitter-tweet" data-lang="it"><p lang="en" dir="ltr">&quot;My goodness he was good today&quot;Federer advances to the QFs without losing a single set.Next up? Marin Cilic. <a href="https://t.co/imaXB1Xsq1">https://t.co/imaXB1Xsq1</a>&mdash; Wimbledon (@Wimbledon) <a href="https://twitter.com/Wimbledon/status/749963791547367424">4 luglio 2016</a></blockquote><script async src="//platform.twitter.com/widgets.js" charset="utf-8"></script>
Serena Williams segue il buon esempio dato da Federer e accede ai quarti grazie alla vittoria su Svetlana Kuznetsova, n.14 del mondo, strapazzata 7-5, 6-0 in poco più di un'ora. Il prossimo ostacolo della statunitense, che all'All England Club ha già trionfato sei volte, è un'altra russa, Anastasia Pavlyuchenkova, n.23 del ranking Wta. Tra le altre festeggiano anche la sorella Venus, che in due set manda a casa Carla Suarez Navarro, Simona Halep e Angelique Kerber.

Tabellone femminile, i principali risultati
Serena Williams (testa di serie n.1)-Svetlana Kuznetsova (testa di serie n.13) 7-5, 6-0
Venus Williams (testa di serie n.8)-Carla Suarez Navarro (testa di serie n.12) 7-6, 6-4
Simona Halep (testa di serie n.5)Madison Keys 6-7, 6-, 6-3              
Dominika Cibulkova (testa di serie n.19)-Agnieszka Radwanska (testa di serie n.3) 6-3, 5-7, 9-7
Angelique Kerber (testa di serie n.4)-Misaki Doi 6-3, 6-1
<blockquote class="twitter-tweet" data-lang="it"><p lang="en" dir="ltr">Venus becomes the oldest player to reach the <a href="https://twitter.com/hashtag/Wimbledon?src=hash">#Wimbledon</a> QF since Navratilova in 1994, beating Suarez Navarro 7-6 6-4 <a href="https://t.co/RWaU7FV2WN">pic.twitter.com/RWaU7FV2WN</a></p>&mdash; Wimbledon (@Wimbledon) <a href="https://twitter.com/Wimbledon/status/750004093863747584">4 luglio 2016</a></blockquote>
<script async src="//platform.twitter.com/widgets.js" charset="utf-8"></script>